25 Best Sweaters For Fall 2020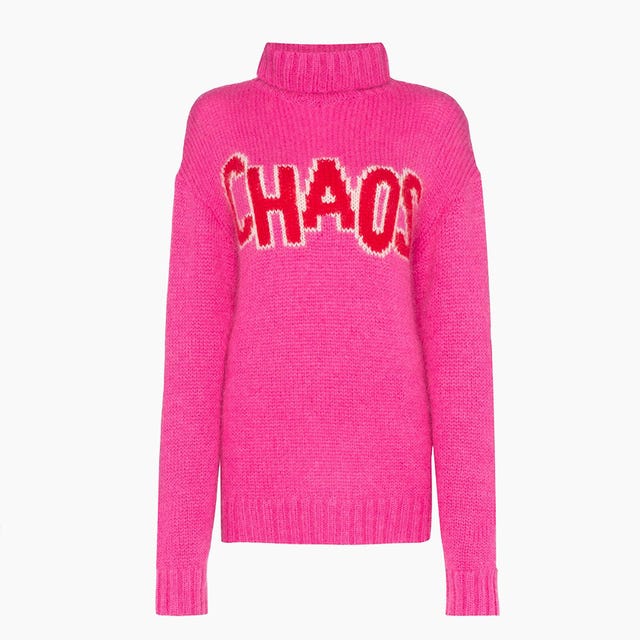 Courtesy
We're starting to reach the tail end of sweater season, but that doesn't mean there aren't fun styles to be had before warm weather consumes us. You may break a sweat at the very thought of cashmere, but these tie-dyed, crocheted, and downright cheeky knits are so good, you'll still love them by the time fall comes. Shop our favorite styles of the season here.
1 of 25
Chaos Turtleneck Sweater
House of Holland
net-a-porter.com
$465.00
2 of 25
The Italian Merino Rib Polo
Everlane
everlane.com
$80.00
We constantly stock up on Everlane's basic cashmere sweaters, but this new ribbed polo is our current favorite knit from the eco-friendly label. 
3 of 25
Bradley Cardigan Sweater
Madewell
nordstrom.com
$59.63
This easy-to-wear open cardigan is a must-have for any wardrobe. 
4 of 25
Ribbed Pullover Hoodie Sweater
A knit hoodie like this is made for yachting. Or, like, beach keggers. 
5 of 25
Dyed Palm Regular Sweater
Elder Statesman
elder-statesman.com
$1,905.00
This hand-dyed style is summer in a sweater. 
6 of 25
Tula Crochet Knit Tank Top
Nanushka
saksfifthavenue.com
$132.00
7 of 25
Short-Sleeve Cashmere T-Shirt
Cashmere? Check. Tie Dye? Check. Short sleeves so you can wear it any season? Check. 
8 of 25
Low-Backed Sweater
H&M's budget-friendly sweater is a business in the front, party in the open back. 
9 of 25
Thousand-In-One-Ways Sweater
Rosie Assoulin
modaoperandi.com
$750.00
10 of 25
Alpaca Blend Jumper
& Other Stories
stories.com
$119.00
Check out this fuzzy number. 
11 of 25
Marl Cardigan
Live the Process
livetheprocess.com
$248.00
Please note that there is an equally cute pair of knit pants to wear with this cardigan. 
12 of 25
Asymmetric Knit Top
This is the type of sweater that will cause your dad to ask where your sleeve went. It's so chic, you'll put up with it. 
13 of 25
The Sexy Tank
Sculpt Knit top
Babaton
aritzia.com
$28.99
Aritzia's editor-favorite Sculpt Knit is made from a thick fabric, meaning you could go braless and layer it under a blazer for work. 
14 of 25
Colour-Block Patchwork Cardigan
J.W.Anderson
farfetch.com
$1,890.00
Harry Styles wore a J.W.Anderson patchwork cardigan, so I wanted a  J.W.Anderson patchwork cardigan. 
15 of 25
Jacquard Knit Cardigan
Cos
cosstores.com
$125.00
This cardigan is sleek and low-key nautical.  
16 of 25
Floral Crochet Top
Miu Miu
farfetch.com
$1,050.00
We like to think of a crochet tank top as just a really skimpy summer sweater.  
17 of 25
Chunky-Knit Sweater
Grab some bubblegum for your next grid post in this affordable pick.
18 of 25
"We are the Weather" Sweater
Stella McCartney
stellamccartney.com
$1,235.00
This organic cotton sweater was made with 70% less water than conventional cotton.  
19 of 25
Valencia Duster
LoveShackFancy
loveshackfancy.com
$357.00
Grab a knit duster for scenic hillside walks (or your allocated daily walk through the neighborhood). 
20 of 25
Striped Cotton-Blend Cardigan
Needles
mrporter.com
$435.00
Needles is the menswear brand everyone is paying attention to. Their mohair sweaters from last season are sold out everywhere, but this'90s style is spring's It-item. 
21 of 25
Malibu Sunset Belted Cardigan
Alanui
net-a-porter.com
$3,395.00
Get wrapped up in this belted sweater, ideal for errands and bonfires alike. 
22 of 25
No. 01
Leret Leret
leret-leret.com
$475.00
Get your head out of the clouds and into this sweater, made by Leret Leret, the industry's new favorite cashmere brand. 
23 of 25
The Knit Polo
Poppy Polo
A colored polo shirt is the key to nailing the prep trend, but a palm tree makes it look seasonal. 
24 of 25
Sleeveless Turtleneck
Halogen
nordstrom.com
$51.75
This turtleneck will easily layer under a jacket without adding any bulk. 
25 of 25
Rainbow-Striped Sweater
Paco Rabanne
pacorabanne.com
$590.00
Taste the rainbow, and wear it too. 
Advertisement – Continue Reading Below
This content is created and maintained by a third party, and imported onto this page to help users provide their email addresses. You may be able to find more information about this and similar content at piano.io