David Crosby, sperm donor, responds to death of Melissa Etheridge's son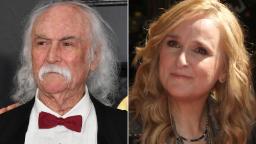 "Today I joined the hundreds of thousands of families who have lost loved ones to opioid addiction," Etheridge said in a tweeted statement. "My son Beckett, who was just 21, struggled to overcome his addiction and finally succumbed to it today. He will be missed by those who loved him, his family and friends."
Crosby helped Etheridge and Cypher, who split in 2000, conceive Beckett and their daughter Bailey, 23, via sperm donation and artificial insemination.
In a since deleted post, a Twitter user wrote that Crosby was just a donor and, "Like most donors, he played no other part."
"Not true," Crosby posted in response.
Another Twitter user wondered whether any of his former bandmates with rock super group Crosby, Stills, Nash & Young would reach out to him regarding Beckett Cypher's death.
"I doubt it but …you never know," Crosby tweeted in response.
They decided against it, she said, because Pitt so badly wanted children of his own at the time and they were not looking for an additional parent for their kids.
"It's one of the reasons why David Crosby and his wife are so perfect — because they already had children," Etheridge said. "They were looking to do this as a gift."