Most Flattering Pairs of Sunglasses for Women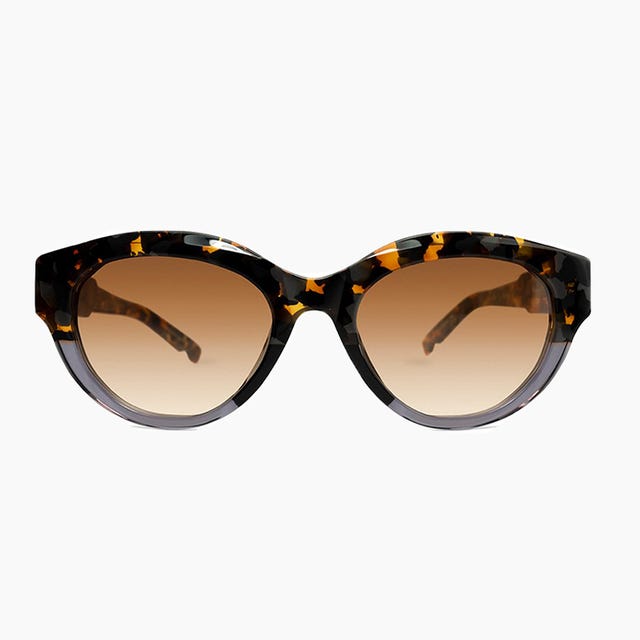 Courtesy
As a proud owner of butterfly-shaped sunglasses, I can safely say that I've worn them exactly one time. Owning a massive collection of styles that range from skinny to oversized to straight up weird usually means one thing: I get overwhelmed and reach for the same boring pair on the daily. And there's no shade in that.
Especially In These Times, I don't want people looking at me at all, much less standing closer than six feet. Admit it— you're boring now, too. Quarantine made you start composting and saying "Yum!" every time you sip peppermint tea. And that's ok! I no longer yearn for a statement pair of glasses when all I do is going on anxiety trips to the grocery store. Instead, I'm looking for sunglasses that humbly say "hey girl, let's block the sun," and very little else. Give me black rectangle frames with zero personality that no one will bat an eye at. If I'm feeling saucy, maybe I'll opt for tortoiseshell, but the extent of my adventures in eyewear stops there. These sunglasses are the gray sweatpants of quarantine: Nondescript, owned for life, and ultra flattering.
Ahead, 15 boring pairs of sunglasses that will be the most reliable thing in your life. We love to see it.
Advertisement – Continue Reading Below
1
Unreal! Sunglasses
Le Specs
lespecs.com
$79.00
2
The Prophet Sunglasses
Swave
swaveyewear.com
$130.00
3
Peyton Sunglasses
Coco and Breezy
cocoandbreezy.com
$225.00
4
Jaye Sunglasses
Oliver Peoples
oliverpeoples.com
$492.00
5
Champ De Mars Sunglasses
Ahlem
ahlemeyewear.com
$455.00
6
The Funk Punk Sunglasses
Crap Eyewear
crapeyewear.com
$79.00
7
The Rendezvous Sunglasses
Velvet Canyon
velvetcanyon.com
$280.00
8
Surf Sunglasses
A New Day
target.com
$14.99
9
Cat Eye Sunglasses
& Other Stories
stories.com
$19.00
10
After Hours Square Sunglasses
Quay Australia
nordstrom.com
$41.25
11
Acetate Sunglasses
Prada
sunglasshut.com
$310.00
12
Beale Sunglasses
Warby Parker
warbyparker.com
$95.00
13
Rectangle Sunglasses
Celine
nordstrom.com
$390.00
14
Clune Sunglasses
Garrett Leight
garrettleight.com
$360.00
15
Cento Sunglasses
Retrosuperfuture
retrosuperfuture.com
$198.00
This content is created and maintained by a third party, and imported onto this page to help users provide their email addresses. You may be able to find more information about this and similar content at piano.io
This commenting section is created and maintained by a third party, and imported onto this page. You may be able to find more information on their web site.
Advertisement – Continue Reading Below