Sharon Stone blames people who won't wear masks for her sister's Covid-19 diagnosis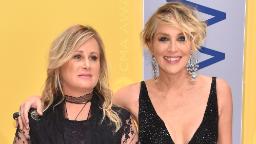 "One of you Non-Mask wearers did this," Stone said in a post Sunday.
Stone's sister, Kelly, had lupus before being diagnosed with Covid-19, according to the post. Stone shared a picture she said was of her sister's hospital room.
"Can YOU FACE THIS ROOM ALONE?" she asked.
Her sister has a weakened immune system and only went to the pharmacy before she was infected, Stone said.
In
a post on her own page
, Kelly Stone said she had driven with her husband to Montana thinking they would avoid the virus. Now, she said, she is "fighting for a breath."
Stone called on her followers to abide by precautions against the virus's spread.
"Wear a mask! For yourself and others. Please," she said.
CNN has reached out to Stone's representatives for comment.