Tekashi 6ix9ine's attempt to donate $200,000 to No Kid Hungry rejected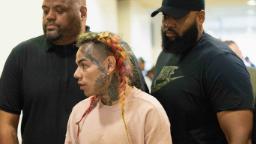 The rapper, whose legal name is Daniel Hernandez, reportedly attempted to make a $200,000 donation to the
No Kid Hungry
organization.
But the charity rejected it.
"We are grateful for Mr. Hernandez's generous offer to donate to No Kid Hungry but we have informed his representatives that we have declined this donation," the organization said in a statement sent to CNN. "As a child-focused campaign, it is our policy to decline funding from donors whose activities do not align with our mission and values."
CNN has reached out to reps for Hernandez for comment.
Hernandez recently posed on his verified Instagram account holding stacks of cash.
"DESCRIBE ME IN ONE WORD," he wrote in the caption of the photo.
The rapper was allowed to complete his sentence at home after his attorney, Lance Lazzaro, argued that Hernandez's asthma made him vulnerable to the coronavirus.
Hernandez seemingly was looking to give away some of his money.
"To every influencer out there REMEMBER if you are blessed GOD gave you that blessing not just for YOU but also TO HELP OTHERS GOD FIRST."