The Best BET Awards Red Carpet Looks Over Its 20 Years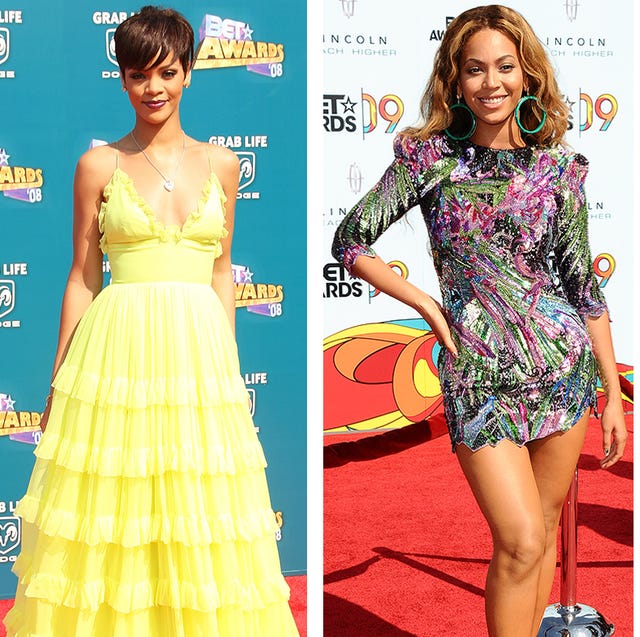 Getty Images
Since June 2001, we have looked forward to the BET Awards each summer. From the thoughtfully chosen hosts to the musical performances and the nostalgic moments where iconic celebs are reunited with their former cast mates (remember that time in 2013 when Nia Long and Larenz Tate stood side-by-side, prompting dreams of a sequel to Love Jones?) or former singing partners, everyone comes together to make us relive good times. It all happens in one place, Black Entertainment Television, the network that celebrates Black excellence in all of its glory.
The BET Awards were where some of your favorite memes were born (like Prince's side-eye and Whitney's "thank you" speech) and where fashion trends reign supreme. Hosted by Amanda Seales on Sunday, June 28, this year's 20th anniversary show will take place virtually. Even in the new pandemic-friendly set-up, it will no doubt deliver unforgettable and powerful moments reflecting on this year. In the meantime, let's look back at some of our favorite fashion looks that celebs wore on the red carpet.
1 of 62
Destiny's Child, 2001
When things were right in the world and the trio known as Destiny's Child were still together.
2 of 62
Mary J. Blige, 2001
The Queen of Hip Hop Soul, Mary J. Blige in a distressed denim dress.
3 of 62
Blaqué, 2001
Crop tops, bedazzled denim, and head scarves to make you go "boom like an 808."
4 of 62
Whitney Houston, 2001
Whitney Houston was the first recipient of the Lifetime Achievement award in 2001. We will always love you, Whitney.
5 of 62
Gwen Stefani and Eve, 2001
Alexa play "Let Me Blow Your Mind" by Eve featuring Gwen Stefani.
6 of 62
Trina, 2001
Blingy denim on denim for the Diamond Princess, Trina.
7 of 62
Janet Jackson, 2002
Miss Jackson if you're nasty, being a forever inspiration and the ultimate icon with her killer abs in this classic ensemble.
8 of 62
Missy Elliot, 2002
There's no one cooler than Missy Elliot, rocking a track suit on the red carpet.
9 of 62
Taraji P. Henson, 2002
Fresh off the heels of her success in Baby Boy, Taraji P. Henson struts her stuff in this cropped leather top and pink lace-up pants.
10 of 62
3LW, 2002
The early aughts were for girl groups and their coordinated looks.
12 of 62
Kellita Smith, 2002
Yes forever to crochet and cutouts.
13 of 62
Gabrielle Union, 2002
This pretty-in-pink look on Gabrielle Union feels like it was just yesterday—she doesn't age!
14 of 62
Jill Scott, 2002
Forever our golden lady, Jill Scott, showing that tie dye has never gone out of style.
15 of 62
Blu Cantrell, 2002
Fringe ponchos and mini skirts can totally still work today.
16 of 62
Ashanti, 2002
There's nothing foolish about a leopard print dress.
17 of 62
Kenny Lattimore and Chanté Moore, 2002
There were tons of couple goals happening in the early aughts. Exhibit A: Kenny Lattimore and wife Chante Moore.
18 of 62
Vivica A. Fox, 2002
Vivica had the Midas touch in this plunging neck, silk maxi dress.
19 of 62
India.Arie, 2002
Headscarves and dresses over jeans done right by neo soul favorite India.Arie.
20 of 62
Lil' Kim, 2003
Nobody did does Lil' Kim better than Lil' Kim.
21 of 62
Free, 2003
Remember when super low-rise jeans were a thing?
22 of 62
Erykah Badu, 2003
Erykah Badu always sending a powerful message of peace, yesterday and today.
23 of 62
Mýa, 2003
Our love is like whoa for tube tops and dressy cargo pants.
24 of 62
LisaRaye McCoy, 2003
Jumpsuit, but make it super sexy.
25 of 62
Tracee Ellis Ross, 2004
Our forever Girlfriend, Tracee Ellis Ross.
27 of 62
Malinda Williams, 2004
Loving everything about this turquoise crochet dress on Malinda Williams.
28 of 62
Toni Braxton, 2005
Thigh-high slits forever by Toni Braxton.
29 of 62
Halle Berry, 2005
A low back orange perfection dress by Ms. Halle Berry.
30 of 62
Beyoncé, Kelly Rowland, and Michelle Williams, 2005
Don't you wish they would reunite again?
Advertisement – Continue Reading Below
This content is created and maintained by a third party, and imported onto this page to help users provide their email addresses. You may be able to find more information about this and similar content at piano.io
This commenting section is created and maintained by a third party, and imported onto this page. You may be able to find more information on their web site.